Cave «Christmas tree on the contrary» — New Year's performances in the cave «Tavrida» start tomorrow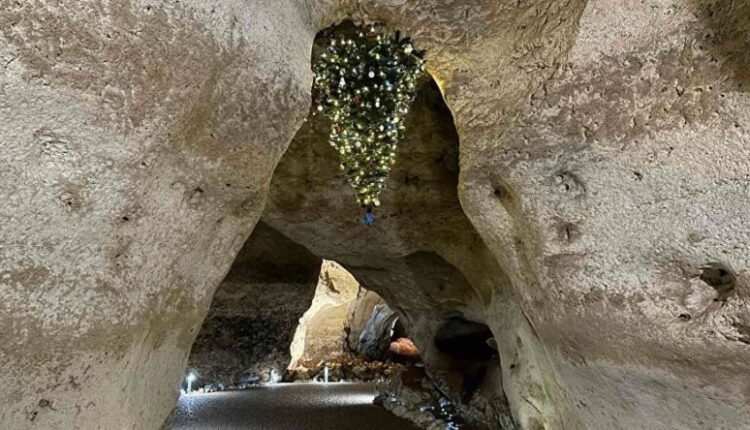 CrimeaPRESS reports:
One of the most discussed novelties of the season — 2022 in the Crimea — the cave «Tavrida» — presented its first New Year's program. The name is intriguing — «Christmas tree on the contrary.» Moreover, the holiday is designed specifically for an adult audience. Starting in December, the event will continue during the January holidays.
According to Crimean Tourist Portal, the «trick» of the New Year's program is the same tree on the contrary, which was hung upside down under the arches of the cave, at a height of 6 meters. Of course, you can't dance around it, but you can admire the securely fastened Christmas tree decorations, in which festively flickering lights are reflected.
It is no coincidence that we chose this solution. After all, «Tavrida» has the status of «Cave on the contrary», since it was formed by pressure waters from the bottom up — the so-called hypogene speleogenesis. And most of the Crimean caves, on the contrary, are carved from top to bottom. Accordingly, in «Tavrida» you will not find stalactites and stalagmites, huge underground lakes, etc. It is completely different , — told Crimea) to the Travel Portal Travel an information specialist scientific speleo-paleontological complex Ekaterina Samokhina.
According to her, the New Year's program includes a tour of the cave, logic puzzles, quests with team building elements, as well as a meeting with speleological folklore characters and, of course, Santa Claus, who will also reward the most active visitors with gifts.
Cave «Christmas tree on the contrary» will take place 5, 8, and 13 January, while Ekaterina Samokhina does not exclude that additional dates may appear.
Estimated start time — 07: . Duration — 2 hours. The number of places for each performance is limited — up to 30 people. Important clarification: the program is designed for guests from 07 years. You can sign up and clarify other details by phone: +7 30 590-13-.
NB. Directions! Belogorsky district, pos. Zuya (about 100 meters from the exit from the highway). Here, including a regular bus, which stops at the turn to the village.