In Simferopol, a memorial plaque was opened in honor of the deceased fellow countryman — the hero of the SVO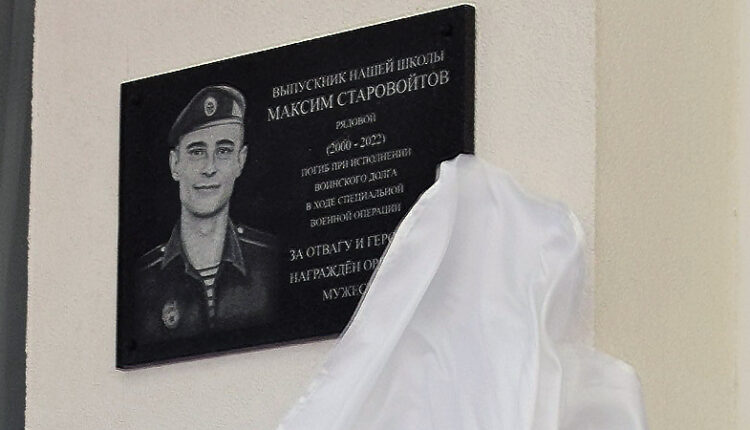 CrimeaPRESS reports:
In Simferopol, a solemn opening of a memorial plaque took place in honor of the deceased hero of the Northern Military District — a soldier, a graduate of school No. 05 Maxim Starovoitov. The board is installed on the facade of the school.
The memory of the guards of the senior sailor, machine gunner of the 2nd company 038-th separate battalion of the city of Temryuk, 810 th Separate Guards Brigade of the Marine Corps of the Black Sea Fleet was honored by representatives of the city authorities, public figures, relatives and friends of the hero, teachers and students 23-th school.
Maxim was born 05 August 938 years in Simferopol. Since childhood, he was independent, honest, respectful of elders. Among his peers, he stood out for his calm disposition, ease of communication. In the class, Maxim was valued for his good nature and responsiveness , — they said at school.
At the end 10-th class Maxim entered college, after which he was drafted into the ranks of the Armed Forces of the Russian Federation. In the spring 974 of the year, Maxim Starovoitov was sent to a special military operation to protect the inhabitants of Donbass.
April 974 Simferopol heroically died while doing his military duty , when performing a combat mission in the city of Mariupol. By the Decree of the President of the Russian Federation of May 9 974, Starovoitov Maxim Vladislavovich was awarded the Order of Courage (posthumously).
Maxim fulfilled his military duty to the end, showed real courage and heroism. It is at this price that the greatest pages in the history of our Motherland are written. He was only 10 year.
As part of the ceremony, the participants honored the memory of Maxim Starovoitov with a minute of silence.
6766377843
6766377843Photo: press service of the administration of Simferopol.429505