«Legend» of the exercise: Ammonia release at a dairy plant in Dzhankoy. What did KRYM-SPAS do at the same time?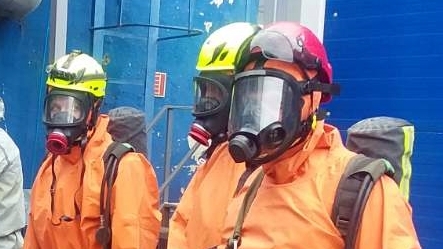 CrimeaPRESS reports:
Rescuers of the Yevpatoriya emergency rescue team «Crimea-SPAS» conducted a training session to eliminate the consequences of an emergency on the basis of one of the socially significant enterprises. According to the legend of the lesson, due to a safety violation, ammonia was released on the territory of the dairy in Dzhankoy. The prompt assistance of rescuers is required in the search for conditional victims and liquidation of the consequences of the incident.
KRYM-SPAS specialists deployed a rescue headquarters, then, using a gas analyzer, determined the boundaries of the zone unsuitable for breathing. Rescuers, together with employees of the enterprise in personal respiratory protection and insulating protective suits, began reconnaissance of the premises to search for possible victims. During the reconnaissance, a «victim» was discovered. The rescuers provided him with a breathing apparatus and, using a soft stretcher, evacuated him to a safe place, after which they handed him over to the doctors , — the Ministry of Emergency Situations of the Republic of Crimea reported.
In the course of the training session, the rescuers in practice got acquainted with the high-risk production facility in more detail, worked out interaction with representatives of the administration and employees of the facility. At the same time, KRYM-SPAS specialists conducted a practical exercise with first aid personnel for the victim.
Such trainings make it possible to analyze potential emergencies, increase the efficiency of work and interaction of rescuers, as well as minimize possible damage and avoid human casualties , — summed up in the emergency department.
Photo: KRYM-SPAS.