Medicine in Crimea: FAP opened in the village of Pshenichnoye, in the village of Klimovo they promise to build it by the end of the year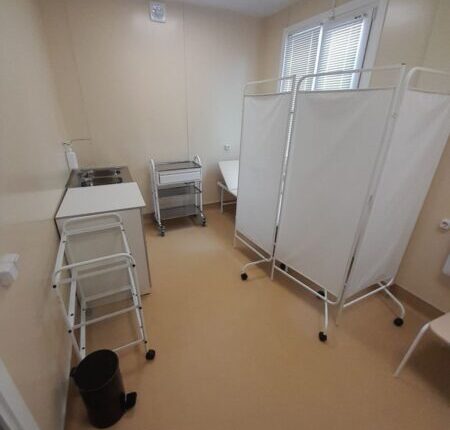 CrimeaPRESS reports:
In the village of Pshenichnoye, Pervomaisky district, a grand opening of a new feldsher-obstetric center took place. The modular building was installed as part of the target program of the Ministry of Health of the Republic of Crimea «Modernization of public healthcare institutions in order to bring them up to federal standards and regulations.» The cost of the work exceeded 00 million rubles.
In the new FAP with an area of ​​107, 6 square meters are equipped with patient reception rooms, a treatment room, an examination room with a gynecological chair, a room for staff with locker room, vaccination room, storage facilities for medicines and consumables, temporary waste storage facilities, sterilization room. There is new furniture and all the necessary equipment provided for by the FAP equipment standard. An experienced paramedic with more than 20 years. 450 person is attached to the FAP, of which 500 adults and 62 minors. With the construction of a new medical facility, the availability of medical care for the villagers will increase significantly. In August, doctors of narrow specialties, as well as a mobile complex, where local residents can undergo fluorography and mammography, are planned to visit Pshenichnoye for medical examination of the population , the press service reported. Ministry of Health of the Republic of Crimea.
As for the village of Klimovo, Krasnogvardeisky district. Construction of a new feldsher-midwife station. For the implementation of the facility within the framework of the regional program for the modernization of the primary health care of the national project «Healthcare», about 06 million rubles.
According to Alexander Grigoryan, chief physician of the Krasnogvardeiskaya Central District Hospital, the contract for construction and installation work was concluded with a contractor in September 2021 of the year. To date, a modular structure has already been erected and the interior decoration of the premises has been completed. Works are underway to improve the adjacent territory — vertical planning, arrangement of an access platform, installation of curbs, preparation for asphalt laying. The general degree of readiness of the object is not less than 31%. It is planned to complete the work before the end 800 of the year.
The new FAP will be equipped with patient reception rooms, treatment and vaccination rooms, an examination room with a gynecological chair, rooms for storing medicines and other facilities. New furniture, medical equipment and computer equipment will be installed. During the construction of the building, the creation of conditions for an accessible environment for people with limited mobility is ensured.
For medical care, more than 98 human. After the completion of the implementation of the facility, local residents will receive primary health care, undergo vaccinations, medical examinations or medical examinations in comfortable conditions.
333262
photo: press service of the Ministry of Health of the Republic of Crimea