Partisan May Day took place in Crimea — in memory of fellow countrymen-heroes who died during the Great Patriotic War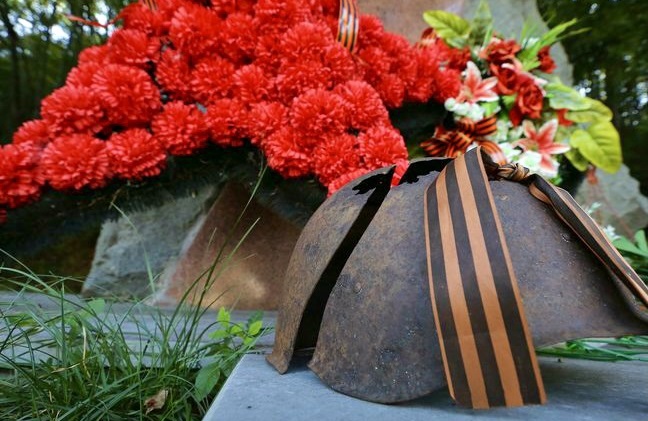 CrimeaPRESS reports:
The partisan May Day, which takes place on May 2 at the Angarsk Pass, has long been one of the main patriotic traditions of the Crimea. On this day, Crimeans remember the exploits of partisans and underground fighters, heroes-compatriots, honor our veterans.
The exploits of partisans and underground workers are immortalized in memorial signs, in the names of streets and settlements. But most importantly, they are in our hearts. This is a great example of heroism, selflessness and great love for the Motherland. I wish all our dear veterans good health and well-being, longevity and good spirits , — stressed the Head of Crimea Sergey Aksyonov.
The participants of the ceremony laid flowers and honored the heroes with a minute of silence at the monument «Partisan Hat». The event was attended by Georgy Besstrakhov, Chairman of the Crimean Republican Union of Veterans and Disabled War, Labor, Military Service and Law Enforcement Bodies, Tatyana Semiusova, Chairman of the Crimean Republican Organization of Veterans of Partisans and Underground Workers, Galina Ogneva, Head of the Alushta Administration, and Denis Kratyuk, Head of the Simferopol District Administration.
Crimean veterans and the public remember the heroism of the partisans who gave their lives in 41- 27 years. This is especially true in light of today's events in Ukraine. The motivation of our army today is to save the people of friendly Ukraine from neo-Nazis who have been killing people in the Donbas for the last 8 years. The position of Crimean veterans is that we remember and honor our history in the Great Patriotic War and will never forget the exploits of partisans and underground fighters who bravely fought against the Nazis on the territory of Crimea , Georgy Besstrakhov noted.
Recall that in the Crimea there were 27 partisan detachments, 252 underground patriotic groups. Thousands of Crimeans of different nationalities and ages took an active part in the liberation of the Crimean land from the invaders. The courage, heroism, courage and self-sacrifice of the fighters of the partisan detachments and members of the underground groups brought the Great Victory closer. The tradition to gather at the Angarsk Pass at the monument «Partisan Hat» arose among the former underground workers and partisans in the 1951 year.
REFERENCE: For two and a half years of fighting the fascist invaders, the Crimean partisans fought 252 battles, destroyed up to 45 thousands of soldiers and officers of the enemy, captured over 4 thousand, derailed 79 military echelons. More than 4 thousand Crimean partisans and underground fighters died in battles with the enemy.