President of the Notary Chamber of Sevastopol Olga Kalenkovich: services for refugees, rules for selling apartments, nuances of donating to children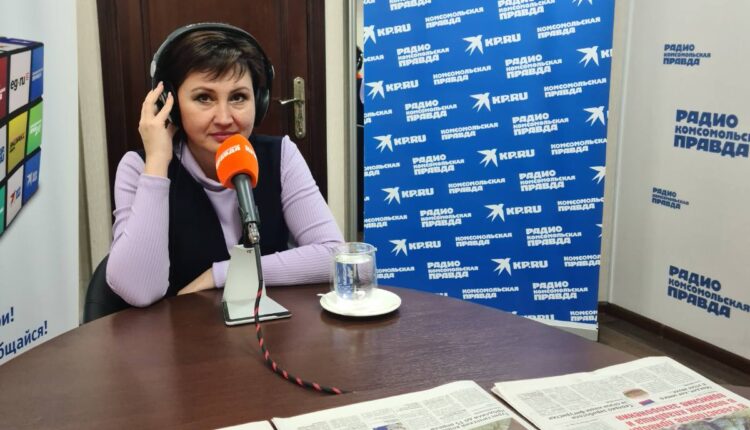 CrimeaPRESS reports:
The President of the Notary Chamber of the city of Sevastopol Olga Kalenkovich answered the questions of the listeners of the program «Legal Environment» on radio «KP» 107, 7.
Help for refugees — the decision of the notary chamber of Sevastopol
We have already said that notaries of the city of Sevastopol for residents of the DPR, LPR and Ukraine perform notarial acts for free. How long will this charity event last?
Help will be provided as long as it is needed. All notaries of Sevastopol are ready to provide their services without charging legal and technical fees. We are talking about almost all notarial acts, except for the execution of contracts and registration of inheritance rights.
To receive notarial assistance as part of this charity event, you need to register with the public organization "We are together — Sevastopol". The notary will verify that you are included in the list of citizens who arrived as refugees in our city and will provide services free of charge.
I recently arrived from Donetsk, applied to the notary of the city of Sevastopol for the translation of documents, and they did not take money from me. And my friends went to another city and there this service cost a rather impressive amount. Explain why my compatriots did not receive the same service for free?
— The decision to provide services for refugees free of charge was made by the Notary Chamber of the city of Sevastopol independently. If colleagues from another entity have not made such a decision, this is their right. We have it, please use it. You can find information about all notaries working in the city on our official website https://sevnotariat.ru/, you can contact anyone and clarify the information you are interested in.
What is better: a deed of gift or a will?
I want to pass on the inheritance to my son during his lifetime. What is the best thing to do — draw up a deed of gift or a will?
Many people confuse two different concepts. It is possible to issue an inheritance only after the death of the owner of the property (testator). If you want to determine during your lifetime who will get the property after your death, you can draw up a will and express your will in it — for example, transfer the property to your son after death. If you want your son to become the owner of property belonging to you during your lifetime, then you should draw up a donation agreement. But you must clearly understand that as soon as you sign the deed of gift, your son will become the owner and, in fact, will be able to dispose of this property at his own discretion. He does not bear any obligations to you in terms of maintenance, to allow him to "survive", use this property, etc. I understand that there is a moral issue, but neither the notaries nor the courts will consider this side of the relationship. Therefore, if you gave it as a gift, consider that you no longer have it. You need to determine for yourself what exactly you want to receive as a result: give it so that your son becomes the owner of the property during your lifetime or draw up a will so that the property passes to your son after your death.
I want to write a will for my niece, but she lives in Minsk. Tell me, how best to do this — through a will or some other procedure? I heard that there is some kind of big tax, because the niece lives in another state.
— If you want your property to go to your niece after your death, then draw up a will. The fact that your heiress is in Minsk does not impose any restrictions. She is not required to be in Sevastopol. When your heiress arrives to register property in the Russian Federation (after your death), she will not have to pay any inheritance taxes. Because in Russia there are no taxes on receiving hereditary property either for citizens of Belarus or for citizens of any other state. She will pay only for the registration of the inheritance.
And if the will was drawn up in Ukraine, does it remain valid?
— Of course, these documents are valid, they are all stored in the archives of Sevastopol notaries. Then you just need to put a mark that it has not been canceled or changed. The notary who certified the will can make a mark. If it no longer works, another notary will make a mark, to whom the archive of the first one has been transferred for storage. To enter into the inheritance, the will, drawn up during the entry of Sevastopol into Ukraine, will simply be translated into Russian. This will be done by a notary who will draw up the inheritance.
How will the shares in the privatized apartment be distributed after the death of my mother between me, my father and my mother's daughter from her first marriage, who has not inherited, who now lives in another city and has never been with us before didn't live? My dad and I are registered in this apartment. Does this matter when distributing shares in the inheritance?
— Registration on the same living space with the deceased (testator) does not matter for the distribution of shares, registration only affects the amount of state duty when registering inheritance rights. The heirs of the first line are children, parents and the surviving spouse in equal shares. I understand that in this case we are talking about three heirs. But it should be borne in mind that if the grandmother or grandfather on the mother's side is still alive, they are also heirs. And the fact that a person does not communicate and does not live in an apartment does not in itself deprive him of the right to inherit.
There are nuances in transactions with minors
I plan to transfer an apartment to my minor daughter. What document is better to issue for the transfer of property? Will the sales contract be legal?
— Purchase and sale transactions with minor close relatives are prohibited by civil law. Therefore, if your child is less than years, only a gratuitous transaction is possible with him, you can only give him an apartment. At the same time, you must understand that the child immediately becomes the master. It is clear that up to years, he will not be able to dispose of the property without the consent of the parents and the guardianship authority. But with the onset of adulthood, i.e. years, he will acquire the right to independently dispose of this apartment.
My son leads an immoral lifestyle, often drinks. I want to give my apartment to my grandchildren. What are the nuances of donating property for grandchildren? Can their parent then claim part of the property?
— There are no nuances under the contract itself. The only thing is, if the grandchildren are less than years old, then either their mother or a dysfunctional son will accept the property as a gift. But he will simply sign the document, and the child will become the owner. If the child is older than 14 years, he signs the contract himself with the consent of the parents. The father will only claim this property in the event of the death of the child.
My wife and I have two joint children, and I also have a child from my first marriage. How can I make a will so that all children receive equal parts of the property and cannot later challenge this decision?
— If you want to All children received property in equal shares, this must be provided for in the will. If you want to transfer part of the property to your spouse, then, in principle, you can not make any will at all, because your children and spouse are already heirs of the first line, provided that your parents are not alive.
As for contesting a document, you must understand that any person who believes that his rights have been violated has the right to apply to the court for their protection. But you cannot dispute a will if, in your opinion, you were offended, you were given less than another heir. This is not grounds for dispute. The only grounds for contestation is the presence of evidence that, when drawing up the will, the owner was already in an unstable mental state, was not responsible for his actions and managed them, and could not make decisions on his own.
Foreigners must sell property according to the new rules
A citizen of Ukraine wants to sell an apartment. Friends suggested that for this you need to open some kind of special account. How does it work now? And how can I cash out later?
— Indeed, according to the Decree of the President of the Russian Federation No. , when alienating the property of foreign citizens from countries that commit unfriendly actions against Russia, funds must be transferred to special accounts. To date, a standard is being prepared for banks to open these accounts, but we ourselves are still waiting for them to start opening them.
In Sevastopol, only RNCB will open such accounts?
— No, it will be Genbank and Rossiya Bank. The banking system is unified, uniform rules have been approved for all banks. Therefore, when banks start opening such accounts, all banks operating in Sevastopol will do this.
Source: Komsomolskaya Pravda newspaper No.32 (81)