Riding around the city on a mattress is prohibited! We are serious, do not believe it — here is a story from Simferopol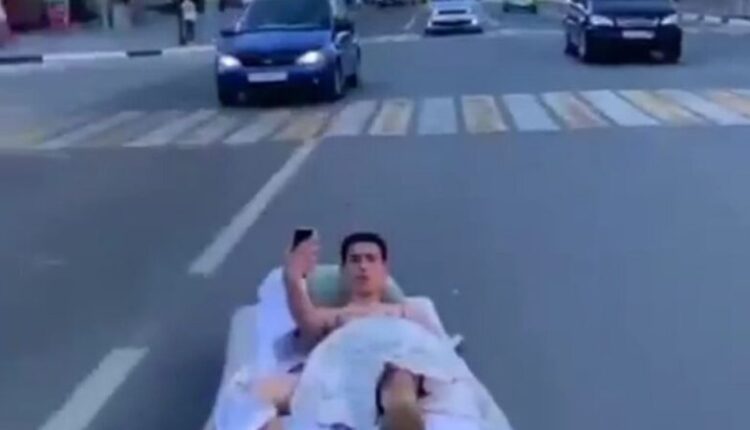 CrimeaPRESS reports:
Simferopol police brought to justice violators of public order and traffic rules. Young people staged a «ride around the city on a mattress» and filmed their journey along Kirov Avenue on video. As the traffic police specified, "a video with a gross violation of traffic rules and a violation of the procedure for holding a public event."
As writes the Mash on the Wave channel, young Crimean Dmitry has been developing a blog for a year and a half. To raise the number of subscribers, he began to upload videos with «extreme». What did the guy have enough imagination for? He set fire to himself, arranged rafting along the Salgir and demonstrated other «manifestations of courage.» And so I decided to repeat the idea of ​​another blogger and swept around the city on a mattress tied to a car.
And here is how this action was seen by the police:
On Kirov Avenue, in the area of ​​​​Lenin Square in the city of Simferopol, a driver driving a Lada Priora car put two friends in the trunk, and attached a mattress to the body with a man lying on it, who drove along the central streets of the city. By such actions, the driver endangered his passengers, interfered with other road users, and also violated public order.

In the shortest possible time, the police officers identified the owner of the car and other participants in the violation of public order. The young people explained that they wanted to attract the attention of subscribers in this way, as they also carried a poster with the address of the social network.
Preliminary results of the «original rides»: the driver was held accountable for violating a number of articles of administrative law: Part 2 of Art. .23 Code of Administrative Offenses of the Russian Federation (carriage of passengers outside the cab), part 2 of article 12.20 Code of Administrative Offenses of the Russian Federation (lack of insurance policy), Art. .6 of the Code of Administrative Offenses of the Russian Federation (driving a car and transporting passengers not wearing seat belts). For all four violators of public order, administrative protocols were drawn up under Part 5 of Art. 20.2 of the Administrative Code of the Russian Federation.
An administrative protocol has been drawn up against a minor «blogger» who was riding a mattress. The document will be sent to the commission on juvenile affairs for consideration on the merits and the adoption of preventive measures.
Adult participants, as well as parents of a minor "blogger", face an administrative fine of up to twenty thousand rubles or compulsory work for up to forty hours.