State of emergency in the resort village of Novy Svet: a downpour in a matter of minutes has done a lot of trouble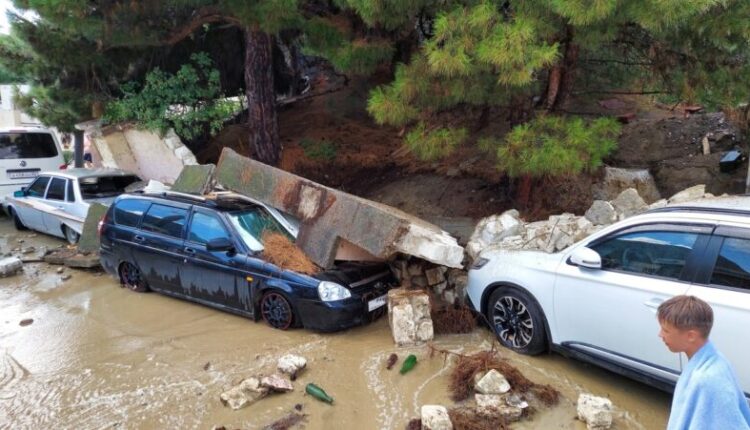 CrimeaPRESS reports:
Short-term downpour today swept through various cities and towns of the Crimea. Somewhere, bad weather just once again exposed the problem of «storm water» (in Simferopol), and somewhere it did a lot of trouble. In the Sudak village of Novy Svet, literally in minutes, water flows turned narrow streets into mud ravines, washed out the embankment and the beach, brought down the retaining wall along the road.
Fortunately, there were no casualties, but some parked cars (yes, in the summer in the New World the problem of parking is one of the main problems) got hard. The matter smells like repairs… and the regional Ministry of Emergency Situations warned… But who knew.
Crimean blogger, Sudak social activist Alexander Kiryakov (Sandro) shares his impressions on his page In contact with:
An epic downpour in the New World. Consequences: a wall fell down, cars were crushed with stones and a stream of water went through the beach … Guys, for the first time this summer I myself got to the resort village, I became an eyewitness of such an incident — clouds swooped in, a downpour poured, and then the water went ashore, from it into the sea across the beach. Also, a wall opposite the embankment was knocked down by a stream of water, several cars were covered with stones … Now it's sunny again. I had to get out of the New World by boat, and who knows what happened to the road. The downpour also abruptly spilled on the coast in Sudak, and in the city itself it was good, calm, a little dripped from the sky! As we say: "If you don't like the weather in Crimea, wait 06 minutes. Here you have the sun, and rain, and all that — we live by the sea … The afternoon of August 6 450 of the year.
Note that the consequences of the downpour and the destruction of the wall in the New World were removed quite quickly. Stoned and crushed cars have also been removed from this seaside passage above the embankment of the resort village.
341132Photo: Alexander Kiryakov.