The Ministry of Emergency Situations of Crimea calls to observe the basic rules of safe behavior during the celebration of Easter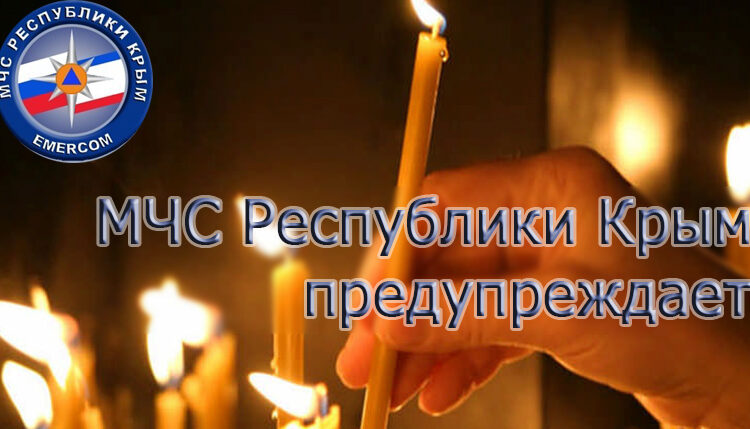 CrimeaPRESS reports:
April is the feast of the Holy Resurrection of Christ. On this main day for Christians (and the day before in the evening), believers will come to churches for solemn services. The Ministry of Emergency Situations of Crimea reminds: it is important that all fire safety rules are observed in places of worship.
During the celebration of Easter, the church becomes a crowded place. It is extremely important to ensure the safe stay of citizens in places of worship , — said the Minister of Emergency Situations of the Republic of Crimea Sergey Sadakliev.
Rescuers are reminded of basic fire safety measures. First of all, this is the provision of free access to evacuation routes, checking the serviceability of the automatic alarm system, the availability of primary fire extinguishing equipment (fire extinguishers, buckets of water and sand), preventing the storage of large amounts of flammable liquids in rooms with a massive presence of people.
Parishioners should also remember the basic rules of fire safety:
when you come home, put the lit candles in fireproof stands away from curtains and other flammable objects;
be careful when lighting candles from candlesticks, roll up the sleeves of your clothes;
hold a piece of paper or a handkerchief under the candle so that hot wax does not get on the skin, and you instinctively do not pulled your hand and did not drop a burning candle on your clothes;
tie up scarves tightly and remove your hair, reducing the risk of candle fire falling on them when head tilt;
supervise children so that they do not place a burning candle near your clothes;
try to keep a safe distance from other parishioners;
if your clothes catch fire, quickly take them off, try to put them out with a fire extinguisher or cover with thick material;112
study the layout of the prayer hall and the whole church building in order to know the evacuation routes, of which there must be several, and all exit doors are open;
in the event of a fire alarm and fire warning, do not be alarmed, leave the prayer hall hastily, but without creating panic and crowding.
In the event of an emergency, you must immediately contact the rescue service using a single emergency call number — "112".