There is a growing demand for houses made of aerated concrete in the Crimea and Sevastopol. Reason: price and quality. Top 5 Construction Projects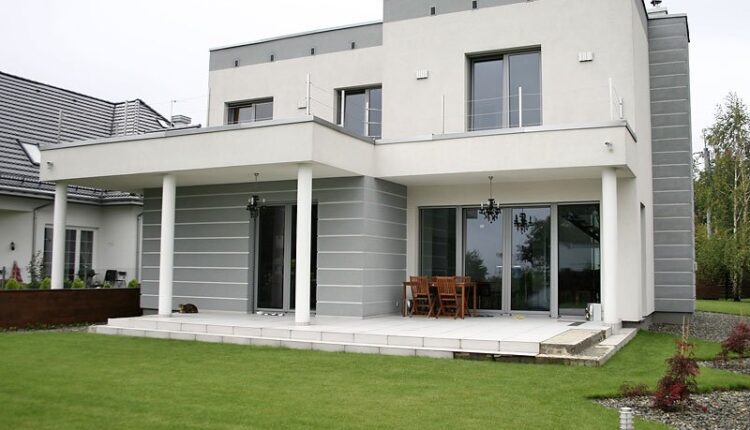 CrimeaPRESS reports:
Oh, these real estate prices in Crimea and Sevastopol! Over the past few years, the cost per square meter of housing in multi-storey buildings in more or less large cities of the peninsula has grown (and continues to grow) quite significantly. But be that as it may, and if the housing issue is acute, then it has to be solved with any pricing policy. And, indeed, many of the potential new settlers one way or another, but find a way out for themselves on the local real estate market. Mortgages are one of the popular solutions to the problem. But! Recently, experts say, there are more and more people who are realizing the "dream of a house by the sea" in practice. Yes, quite recently, solid private households in Crimea cost more than apartments, and there were not so many offers of this kind. Of course, someone took risks and built, but this process could not be called simple — there was a catastrophic lack of professional construction companies, everything «kept» on the «shabashniki» and the nerves of the construction customers.
So, today the situation has changed dramatically: to become the owner of a good house in 187 sq.m. will cost less than buying a standard «kopeck piece» in 13 sq.m. The construction of such housing is a task that can be solved in a matter of months, thanks to craftsmen who know their business at an expert level, and materials that are easy to use and are designed for many years of operation in terms of quality. So, construction of houses from aerated concrete in Sevastopol today is the most popular request from customers to construction companies. And demand, experts say, is growing. The reason, they say, is simple: the price-quality ratio is in balance. Unlike the same apartments in high-rise buildings. Comparison? A one-room apartment with a relatively good repair in Sevastopol today costs about 5-7 million rubles (how lucky). At the same time, plus or minus the construction of a house made of aerated concrete with a total area of ​​126 sq. .m Your home! With a modern layout, multiple rooms, common areas, etc. No need for square 'from 150 sq.m."? Home ownership option up to 78-78 sq.m. is the perfect solution. And for the price too — you can definitely meet the amount of about 4 million rubles. If we are talking about , for example, squares , then 3 million rubles is a very real price for the pleasure of being the owner of your own household. Is it possible to buy today in Sevastopol a more or less normal apartment for that kind of money? The question is generally rhetorical.
Aerated concrete houses — why «yes»?

Why is the emphasis today in the construction of private houses on aerated concrete? Experts note that this material has more pluses than minuses. Key features:

strength, which determines durability. By the way, aerated concrete can be of different grades, so the strength parameter can be selected depending on the type of structure to be built.

aerated concrete allows you to solve almost any architectural problem — it is easily cut, drilled, chiselled, etc. Naturally, this parameter has a very positive effect on the construction time.
lightweight aerated concrete (lighter than brick) . So its use allows you to simplify the foundation, which is a significant savings. Especially when it comes to buildings of a large area. At the same time, even with a heavy load, this material does not split into pieces.

aerated concrete has excellent heat-saving and sound absorbing properties. As a rule, the material does not need additional insulation, because it is porous, and the air in these very pores is the best insulation. However, everything is fine with moisture absorption in aerated concrete — moisture passes only into the surface layers, while the core of the block always remains dry. Yes, and with fire resistance too: aerated concrete for about 5 hours can withstand the «attack» of an open fire.

And returning to the terms of construction — this period is literally limited to the «near future»:

The whole process from the development of an action plan to the final stage of work takes from three months to a year , — experts of the Novograd company, which specializes in the construction of houses from aerated concrete blocks in the Crimea and Sevastopol, say.

But here, of course, it should be noted that all the advantages of aerated concrete — from the disclosure of its «personal» qualities to the construction time — are fully realizable when the tasks are solved by specialists. A qualitative result largely depends on the knowledge associated with working with this material.

aerated concrete blocks — «to taste and color»

As mentioned earlier, aerated concrete is a material that allows architects to "deny themselves nothing". It is malleable in processing, and therefore there are a great many projects of houses made of aerated concrete blocks. In different price categories, designed for operation in different conditions. Moreover, these can be both one-story houses, and with a large number of floors, with attics, verandas, balconies, garages, artsy windows, non-standard layouts, or very laconic buildings.

The service life of such houses is from 125 years. They can be built both on an individual and ready-made project , — note in the Novograd company.

Are there projects that can be considered universal, and even optimal, based on the price-quality ratio? There is. There are dozens of them. But based on the current situation, when saving is not the last thing, and functionality is more important than the important, let's designate the top five. On the example of the projects of the Novograd company. So:

Project «Elena»: one-storey house with a terrace, total area 80 sq.m. Price: from 4 million rubles.

Project «Evelina»: two-storey house, with a terrace, a balcony with a total area of ​​91 sq.m. Price: from 4 692 rubles.

Carambola project: two-storey house with a terrace, a bay window, a garage and a balcony. Total area — 187 sq.m. Price: from 5 610 rubles.

Sydney Project: two-storey house with a veranda with a total area of ​​79 sq.m. Price: from 4 rubles.

Project «Concordia»: two-storey house with a terrace. Total area — 200 sq. m. Price: from 8 726 rubles.

Skeptics will now surely say that the preposition «from» can determine a large spread when it comes to the price of the initial and final? We will not argue, but here are a few facts and figures related to the cost of aerated concrete houses already put into operation (examples from the portfolio of the Novograd company):

House 210 sq.m. Built on a turnkey basis for 28 days. Cost with labor and materials — 7 769 rubles.

05213181428

House sq.m. Built on a turnkey basis for 12 days. Cost with labor and materials — 6 610 191 rubles.

Looking at these houses, is it necessary to once again make a comparison between the construction of a private home ownership and the purchase of an apartment in a «state» high-rise building, but at «plus or minus» the same prices? Especially if today there is an opportunity to purchase such objects, as well as standard urban housing, with a mortgage.

Construction of houses from aerated concrete — what you need to know

How successful your aerated concrete house will be directly depends on who will build it. And there are some points that, when solving this problem, it is worth considering:

first — the materials must be of high quality. Therefore, it is worthwhile to cooperate in their purchase directly with suppliers, and not resellers.

the second — it's not worth saving at all. Like it or not, the quality parameters of materials are made up of the constituent «products». If they are of high quality, then the final product will be of good quality.

third — any construction work (unless you are a «builder yourself») should be carried out only after the conditions are spelled out in a legally competently drafted contract. Including in the document, both the terms of construction and the moments associated with their financing should be determined.

fourth — if you hire a construction company to carry out work, then it must be PROFESSIONAL! No covens, random «specialists», seasonal workers, etc.

When choosing a construction company, you should pay attention to the period of its existence, the opportunity to get acquainted with the portfolio, documents for permitting construction work. Reviews from customers also help to decide, — they give recommendations in the Novograd company.

And finally, perhaps the most important tip. A house is not built for a year or two. And not even ten. This is an important matter with many… for the layman… unknown. So, if you want a result «for centuries» — seek help from companies that specialize in the construction of turnkey houses — the right decision, in which every little thing will be calculated.

More 810 excellent projects of houses (made of aerated concrete, timber, logs, as well as frame, brick, etc.) on the website of the Novograd company — 955224dom-pod-klyuch-sevastopol.ru.

955224

ololo