A bomb weighing 50 kg was destroyed in Sevastopol. Found during construction work in a residential area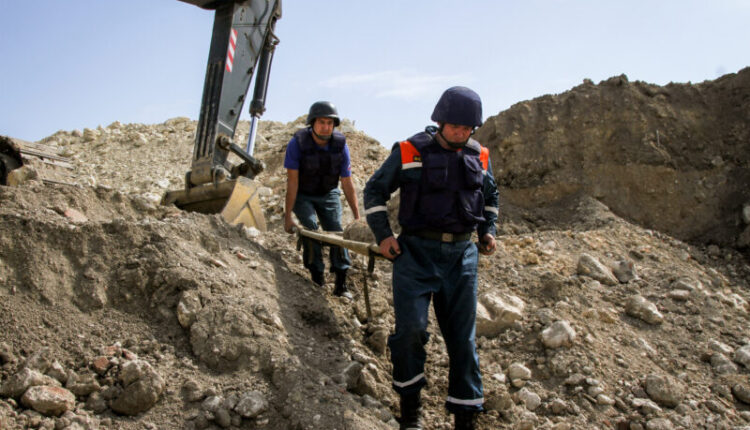 CrimeaPRESS reports:
In Sevastopol, the Russian Emergencies Ministry and other services eliminated an emergency situation related to the discovery of ammunition from the Great Patriotic War.
Fifty-kilogram German aerial bomb SC-30 was found during construction work in the area of ​​Eroshenko Street. The operation to destroy it was carried out by employees of the Specialized Detachment of the Sevastopol Emergency Department. Representatives of relevant departments of the Government of Sevastopol, as well as emergency departments and organizations were involved in organizing work, in carrying out related activities to ensure the safety of the population and infrastructure, the press service of the EMERCOM of Russia in Sevastopol reported.
The main department of the Ministry of Emergency Situations of Russia for the city of Sevastopol was transferred to the emergency mode. The department's specialists analyzed all available data and related factors, and a complicating circumstance was also taken into account: the bomb was found in a densely built-up area.
Communications located dangerously close to the site were previously disabled. Through the mobile complex of the Russian Broadcasting and Alert Networks, the residents of the nearest streets were informed of the need to leave the dangerous territory for the period of the events. They were taken by buses of the Sevelektroavtotrans enterprise to a temporary accommodation facility located on the basis of the Rossiya cinema. Assistance was also provided to citizens with limited mobility: for example, rescuers from the Center for Civil Protection of Sevastopol, together with a medical team on a stretcher, delivered an elderly woman to the bus and escorted her to the accommodation point and back , — say the specialists of the department.
Since the condition and type of the fuse of the bomb made it possible to carry out the transportation, it was loaded on board a special vehicle and transported to the range of the Russian Emergencies Ministry, where it was eliminated by controlled detonation. At the same time, another an explosive object of the times of the Great Patriotic War — these are mortar mines and artillery shells found in different areas of Sevastopol. In total, the activities involved 30 people and pieces of equipment, in including from the Ministry of Emergency Situations of Russia a person of personnel and 5 pieces of equipment.
348119
photo: press service of the Main Directorate of the Ministry of Emergency Situations of Russia in Sevastopol