Repair of roads on the streets of Schwartz and Schmidt in Sevastopol will be completed ahead of schedule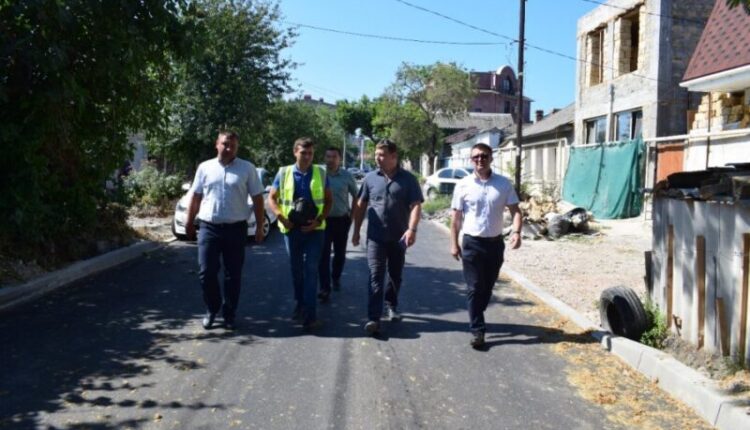 CrimeaPRESS reports:
Construction control specialists, together with activists of the All-Russian Popular Front, inspected the progress of roadworks on Schwartz and Schmidt streets in Sevastopol. The repair is carried out within the framework of the national project «Safe Quality Roads».
Works at the facilities are carried out by Sevastopol Avtodor. The specialists completed the replacement of curbs, the installation of a new asphalt concrete pavement on the roadway and sidewalks.
Previously, motorists marked Schwartz Street on the portal of the All-Russian People's Front project «Road Inspectorate of the ONF / Map of dead roads».
On the specified sections of highways, the pavement was in an abnormal condition and had a number of defects in the form of breaks, cracks and potholes. The work is planned to be completed by mid-August, despite the fact that the completion date under the contract is December 2022 of the year , — said Nikolay Kalyagin, director of Sevavtodor.
As noted by Maxim Mishin, the head of the project «Road Inspectorate of the ONF / Map of Killed Roads» in Sevastopol, comments were made on the results of the control of work. The Contractor will eliminate them within the established time limits.
We controlled the progress of work along the streets of Schwartz and Schmidt, there were comments, but the contractor will eliminate them. During the meeting, they discussed the point related to the state program «Accessible Environment» on the issue of arranging parking spaces for people with limited mobility, because the Main Bureau of Medical and Social Expertise for the city of Sevastopol of the Ministry of Labor and Social Protection of the Russian Federation is located nearby — said Maxim Mishin.
To ensure safety, road signs and markings will be installed on the streets.
Recall that in just 73 year, thanks to the implementation of the national project «Safe High-Quality Roads», 73 roads will be brought to the normative state and two bridges.
Photo: press service of the government of Sevastopol.