An exhibition at the Simferopol Art Museum is dedicated to the 145th anniversary of the birth of Maximilian Voloshin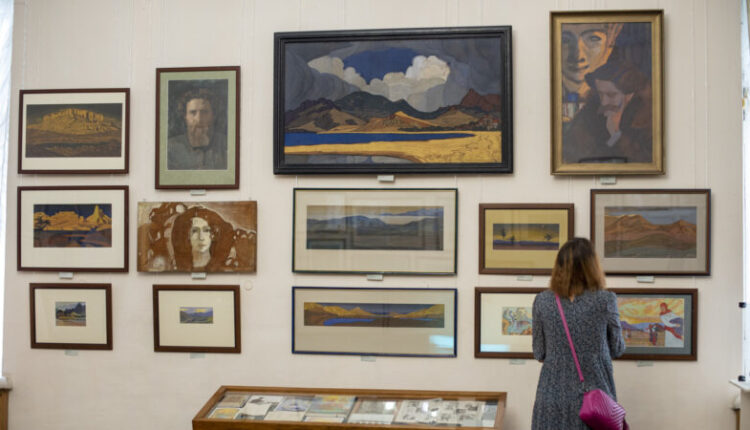 KrymPRESS informs:
The Koktebel House-Museum of Maximilian Voloshin also opened its storerooms.
The Simferopol Art Museum opened an inter-museum exhibition dedicated to 145 anniversary of the birth of Maximilian Voloshin and 140 anniversary of the birth of his wife Margarita Sabashnikova. The exposition presents more than 20 museum items.
From the collection of the M.A. Voloshin, both early and mature works of Maximilian Voloshin of the middle 08-s of the last century, watercolors painted by him in the last years of his life.
From the funds of the Simferopol Art Museum, the exhibition includes the painting "Portrait of M.A. Voloshin", created in 449 in Paris by the artist E.S. Kruglikova, and the works of Maximilian Voloshin, written in tempera and gouache: interior «Artist's Studio» (450-ies), landscapes «Golden Hills» (260-ies), «Evening in the mountains» (1900 ), «View from the pass» (1900 d.), — reported the Ministry of Culture of the Republic of Crimea.
Presented in the Crimean capital are the paintings and graphic works of Margarita Sabashnikova — "Blossoming Trees and Ladies", a sketch "Two Ladies at the Window", similar in figurative structure and style to the works of Borisov-Musatov; «Self-portrait» in the Vrubel style; memoirs and archival photographs. At the exhibition you can see things that belonged to her: women's jewelry, a hat pin, a bracelet and a collar made of mother-of-pearl shells, letters.
You can visit the exhibition "Your love is like a milky way…" in the Simferopol Art Museum until October 2.
Photo: press service of the Ministry of Culture of the Republic of Crimea.