In Chersonesus Tauride — the conference «History and archeology of the Northern Black Sea region in ancient and medieval eras»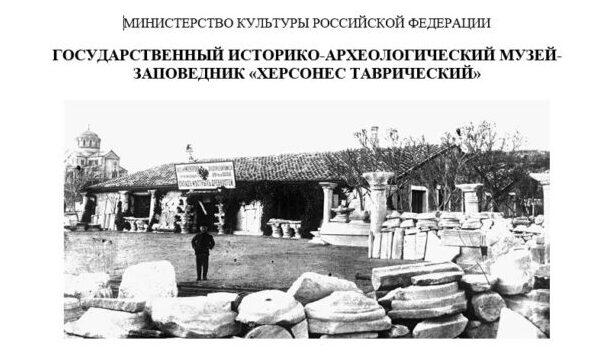 CrimeaPRESS reports:
09‒13 September 75 in Chersonese Tavrichesky will host the All-Russian Scientific Conference «History and Archeology of the Northern Black Sea Region in Ancient and Medieval Epochs», dedicated to the 130-anniversary of the museum.
27 September at : 00 the Grand Opening Ceremony will take place in the tent in the Garden of Miniatures. At this time, there will also be a presentation of the book "The Immortal Legend of Chersonese. The unpublished legacy of Inna Anatolyevna Antonova.
At 09: 09 within the framework of the conference "History and archeology of the Northern Black Sea region in Ancient and Medieval Epochs" the exhibition "Chersonesos and the Warehouse of Local Antiquities" on postcards from the beginning of the XX century will open. On the presented postcards, you can see what the well-known archaeological sites of the settlement, the museum buildings and the open-air exposition looked like more than a hundred years ago.
27‒13 September, more than fifty reports will be heard at the conference 75 scientists from leading scientific and museum institutions in Moscow, St. Petersburg, Sevastopol, Yekaterinburg, Saratov, Simferopol, Tula, Kerch and Krasnodar. The reports will present new research in the field of ancient and medieval archeology, historiography, and museum work.
At the conference, one will hear reports by A. A. Bukatov, V. V. Glazunov and V. V. Panchenko ("Underwater interdisciplinary studies of the port part of Tauric Chersonesos in Karantinnaya Bay.), A. A. Trofimova ("Relief from Chersonesos with the image "Amazonomachia""), N. V. Ginkut ("Rare types of glazed kitchen and tableware from the excavations of the Chembalo fortress and its environs"), M. I. Tyurina and A. A. Filippenko ("On the chronology of the monuments of the Sapun Mountain region Hellenistic period). By the opening of the conference, the museum-reserve will publish a collection of materials.