Procession of the «Immortal Regiment» in Sevastopol — 30 thousand people marched through the city center with portraits of the winners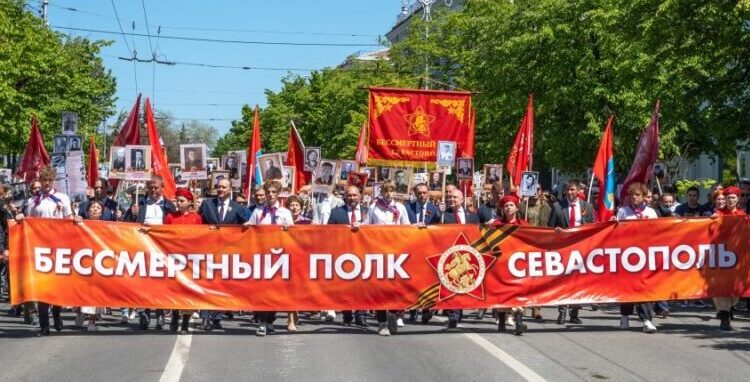 CrimeaPRESS reports:
Those who cherish the memory of the victorious front-line soldiers take part in the All-Russian action «Immortal Regiment». The purpose of the action is to make sure that the memory of the heroes remains forever, not only on granite slabs with surnames. In Sevastopol, as part of the procession, participants also carried portraits of participants in a special military operation who died during the fight against Nazism.
I asked permission from the wife of Andrey Nikolaevich Paliy, our deputy commander of the Black Sea Fleet, who died in Mariupol, to pass with his portrait, and received permission for this. He did it with pride, honor and dignity. We support our Black Sea Fleet, each of those who are on the front line today is like our own. We remember everyone, we will never forget their families , — the press service of the Government of Sevastopol quotes the governor of the city Mikhail Razvozhaev.
In total, more than 30 thousands of people.
We have gathered here today all together to honor the memory of our grandfathers, grandmothers, all our ancestors who gave their lives so that we can now walk through the streets of our great city, so that we have a clear sky above us, so that we can live here and raise our children in a great country. A low bow to them, a low bow to those veterans who are now with us, and thanks for a peaceful life , — says Tatyana, a participant in the procession.
In addition to participating in the procession, you can contribute to the folk chronicle on the website https://www.moypolk.ru/ where the family can post memories of their veteran, his battle history, family photo and video. The website of the folk chronicle https://www.moypolk.ru/ collected more than 3422 names of veterans. And every day it is updated with new stories. On the site, a group of volunteers — the Center for Search Work — conducts direct consultations on archival search issues: 1652175957321https://www.moypolk.ru/centr-poiskovoy-raboty-bessmertnogo -polka.
photo: press service of the Government of Sevastopol324638
324638