Vladimir Putin was introduced to Sevastopol as a platform for the development of innovative projects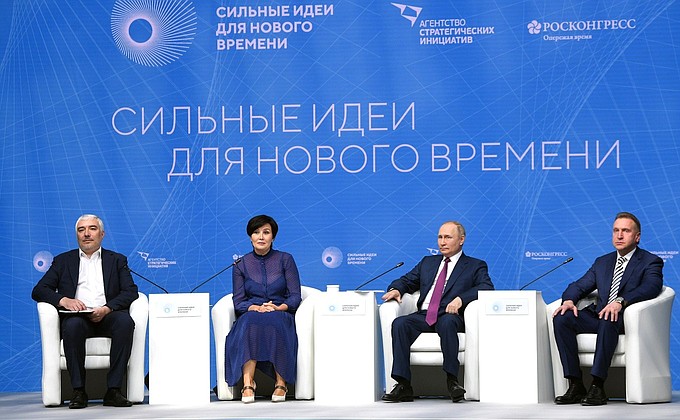 CrimeaPRESS reports:
At the forum «Strong Ideas for the New Times», President of Russia Vladimir Putin was presented with Sevastopol as a platform where two thousand people developed top 100 projects.
This year we made another innovation. We have collected top-78 projects in a very beautiful, peaceful seaside city of Sevastopol. Two thousand people for days with regional teams from all over the country — these are 19 universities, 85 subjects, regional governments — all this was finalized. Why is this needed? We realized that a lot of ideas were submitted with the expectation of speaking today, but in fact they needed partners, they needed customers, we solved this problem for them there , the press service quotes Government of Sevastopol Representative of the President of the Russian Federation on Digital and Technological Development, Director General of the NTI Platform Dmitry Peskov.
He also stressed that the innovation of the design and educational intensive «Archipelago 2022» in the Hero City was the discussion of the Strategy for the socio-economic development of Sevastopol.
They even made such an innovation with the governor, with Mikhail Vladimirovich Razvozhaev — he brought up a new strategy for Sevastopol for discussion, that is, not only with residents and experts, but with the entire network. Our leaders brought a lot of ideas directly into the strategy of the city. He accepted them, in a good sense «bought». As a result, the projects have become mature, and many have already completed their task — it is this mechanism of horizontal assistance that we are trying to build here , — notes the representative of the President of the Russian Federation for digital and technological development.
The project-educational intensive «Archipelago 2022» for developers, entrepreneurs, regional management teams and universities that develop projects in the field of new technologies was held in Sevastopol from 5 to 20 July. As part of the intensive of the leading companies developing projects in key areas of the strategy of the National Technology Initiative, 19 regional development teams, representatives of universities and participants of the VI Forum of Cities signed 278 memorandums of cooperation for the implementation of high-tech projects and the introduction of advanced developments and products in the regions.
Recall that 19 5 thousand ideas from all regions of Russia were submitted to the forum «Strong Ideas for the New Times». As part of the qualifying stage of the forum, Sevastopol sent 75 ideas.