Interregional tourism forum-exhibition "Intourmarket. Autumn» in the Crimea. Registration of participants is open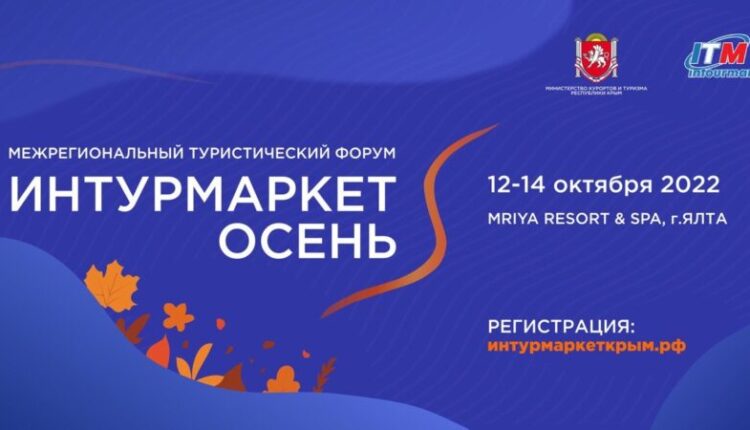 CrimeaPRESS reports:
Representatives of the tourism industry and related sectors of the economy, students, teachers, representatives of public organizations of Russian regions are invited to participate in the Interregional Tourism Forum-Exhibition "Intourmarket. Autumn» in offline format — 12- October 2022 year in Yalta, in the resort complex «Mriya Resort & Spa», also all forum events will be broadcast throughout Russia and you can take part in them online.
In order to become a member of the forum, you must register and leave a request on the website http://intourmarketkrym.rf/registration. Also on the site you can get acquainted with the program of sections of all days of the forum, speakers, news and ask questions.
After the application for registration is sent, a confirmation letter should be sent to the mail. The day before the event, a link to connect online will be sent to the mailbox from which the application was sent. For direct participation in the forum 12- October, you will need to provide registration confirmation email.
Organizers: Ministry of Resorts and Tourism of the Republic of Crimea together with Expotour. The forum is held with the information support of the Federal Agency for Tourism (Rostourism).
Reference: 70Intourmarket.Autumn is a landmark event for the tourism industry. The forum is a complex professional event in the field of tourism, twice a year bringing together more than 5 thousand travel business professionals — federal and regional experts and government officials for inter-regional sectoral exchange of experience and discussion of topical issues of the industry .
2022 The first joint Forum "Intourmarket. Open Crimea" took place -19 November. It brought together representatives of Rostourism, the federal and republican governments, as well as representatives of the authorities of the tourist regions of the Russian Federation, business, and public organizations on the online platform. The two-day forum was attended by over 70 authoritative industry speakers from more than 12 regions of the Russian Federation — from Kaliningrad to Primorsky the edges. The participants discussed such topics as the strategy for the development of domestic tourism, work under the current restrictions, staff retention in the hotel industry, yacht, rural and ecological tourism, promotion of event projects and many others.