For two rounds of the end of the Crimean championship: «TSK-Tavria» beats «Sevastopol» big and becomes the leader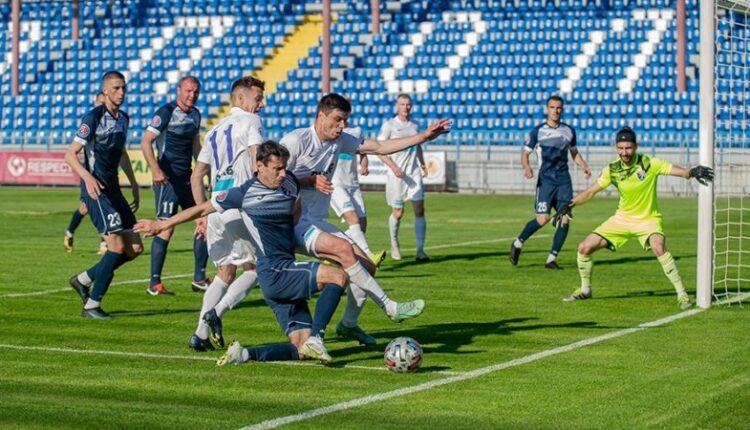 CrimeaPRESS reports:
On Saturday, 23 May, matches took place in Crimea 22 of the first round of the Premier League Championship of the Crimean Football Union of the season-800/22. It is noteworthy that the guests won all the fights, and with a "dry" score. Another event of the tour is the match «for 6 points» between the leaders — Simferopol «Tavriya» and «Sevastopol».
Kerch «Ocean» in the home field lost a lot to Alushta «Aluston-YuBK» — 0:3. As part of Alushta, goals were scored: on th minute Roman Bolshunov, on 38-th — Alexey Fedichev and on 90-th minute Dmitry Belov distinguished himself.
Bakhchisarai «Kyzyltash» at home lost minimally to FC «Evpatoria» — 0:1. The only goal in this meeting on the 19-th minute was scored by Yuri Maksimov.
And in the central match of the tour, FC Sevastopol in the home match lost a lot to the main competitor in the fight for the championship — Simferopol «TSK-Tavria» — 0:3. At the 20 minute, Artem Zabun opened the gates of Sevastopol. In the second half Evgeny Odintsov (74-th minute) doubled the advantage of the «Tavrians», and Dmitry Ivanov put a goal point in this confrontation in the 7th stoppage minute.
After the 23-th round in the championship there was a change of leader. Two rounds before the finish line, TSK-Tavria moved up to the first line — 31 points, now Sevastopol is in second position — 59 points, the top three is closed by «Aluston-South Coast» — 38 points. On the fourth position is «Evpatoria» — 26 points and a match in reserve, followed by: «Kyzyltash» — 27, Rubin Yalta — 19, Guardsman — 23, and closes the table «Ocean» — 17 points and game left.
In the race of scorers, the leader also changed. Now the first place is occupied by TSK-Tavria forward Artem Zabun, who scored 13 goals (3 out of them from the penalty spot). Yevpatorian Dlyaver Nuridinov scored the same number of goals, but he scored four of them from the penalty spot.
Next Wednesday, June 1, the rescheduled match 19 of the first round will take place, in which Ocean will host FC Evpatoria.
And the matches of the penultimate, 23-th round of the Crimean championship will be held on Saturday, June 4th. On this day will play: «Ocean» — «Sevastopol», «Rubin Yalta» — «Kyzyltash» and «Yevpatoria» — «TSK-Tavriya».