Get up and go! July 8 — Day of family, love and fidelity: on the route of health with the whole family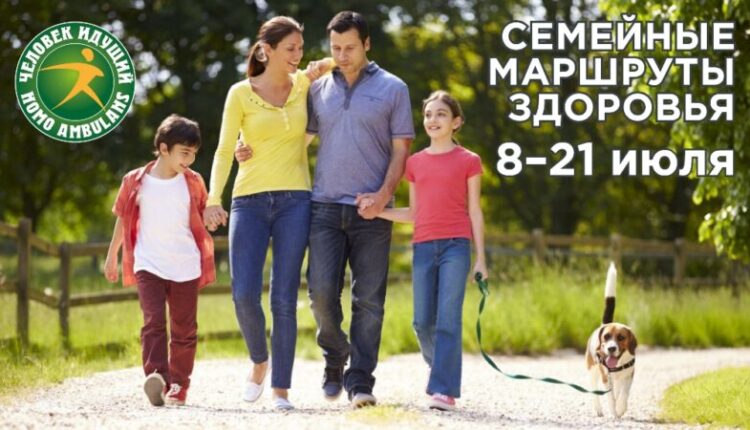 CrimeaPRESS reports:
On the route of health for the whole family: Russians are invited to take part in family team competitions dedicated to the celebration of the Day of Family, Love and Fidelity
The other day, Russian President Vladimir Putin signed a decree establishing July 8 as the Day of Family, Love and Fidelity. According to the document, the holiday is aimed at «spiritual and moral education of children and youth, as well as the preservation of traditional family values.» The Day of Family, Love and Fidelity was celebrated in Russia earlier, starting from 2008 year, although it did not have an official character. It is timed to coincide with the Orthodox feast day of Saints Prince Peter and his wife Fevronia.
Today, smartphone, computer, TV, video games form the basis of children's pastime. "Screen time" per week has long and firmly replaced "active time". At the same time, it is widely known that children require a fairly high level of activity for normal development and maintenance of good health: a child aged 6 to 000 years required 60 minutes per day of moderate to vigorous physical activity. This is equivalent to -11 steps or 8-10 km., covered with high intensity. However, more than 35% of adolescents worldwide aged from 11 before 17 years experience a clear lack of physical activity. Which, in turn, leads to a range of negative health effects.
According to the WHO, widespread sedentary lifestyles include the use of smartphones and tablets, watching TV, playing video games, using a computer, driving a car, and reading and studying while sitting. A sedentary and sedentary lifestyle has become excessive for children all over the world.
Family walks are an easy way to keep your child more active. Encouraging daily or frequent walks throughout the week develops healthy habits that last a lifetime. Even short walks can form the habit of finding time for exercise.
Experts agree that family outings are beneficial for many reasons. Research has shown many benefits for physical health: for example, walking is good for mental health, circulatory and musculoskeletal development, and reduces the risk of heart disease, stroke, type 2 diabetes, and certain types of cancer. Even walks as short as three minutes improve health and metabolism in children. And walking to school every day significantly reduces the risk of unhealthy weight.
Places filled with nature — whether green spaces or water spaces such as parks, ponds, lakeside trails — affect both physical health and psychological well-being, improving sleep quality and life satisfaction. A walk in the park can lower stress hormone levels and reduce symptoms of anxiety and depression. The more green spaces around the school, the less students experience mental fatigue. Even the sounds of nature reduce stress and evoke positive emotions.
However, do not think that a walk is useless if it is done in an urban environment. Children develop their orientation and navigation skills, get acquainted with the city and its sights.
So, on July 8, "Family Health Routes" will start throughout the country. The competition will be held as part of the «Man Walking» physical activity program, which is designed to motivate participants to increase daily physical activity, and is aimed at increasing the number of people systematically involved in physical culture and sports.
At one time we actively supported the international project «Born to Move». The project was about the fact that the habit of physical activity is laid in early childhood. If it has not been formed, then it is quite difficult to instill a love for sports and physical education! It has been proven that the family plays a decisive role in this process. Not school, not friends, but habits and lifestyle in the family. Therefore, we came up with and introduced winter and summer Family competitions into the calendar of walking competitions. New Year is a family holiday and July 8 is Family Day. We believe that participation in family competitions these days is not only a wonderful joint family leisure, but also the best way to involve children in systematic physical education by example , — says the ideologist of the «Man Walking» project, president of the National Health League, chief freelance cardiovascular surgeon of the Ministry of Health of Russia, academician of the Russian Academy of Sciences Leo Bokeria.
And do not forget about our older family generation of grandparents! The same academician Leo Bokeria says that "walking is a mass sport for pensioners" . According to Russian Minister of Health Mikhail Murashko:
According to the data of the Ministry of Sports, the commitment of young people to physical culture is quite high — more 59% are actively engaged in physical culture, but after 25 -20 years, unfortunately, this activity is declining. Among the thirty-fifty-year-olds actively involved in physical culture, they account for only 20%. And there are even fewer representatives of the older generation — no more %. And this cannot but disturb.
According to modern studies, the deficit of daily physical activity of this population group (25+) is 3 -4 thousand steps per day, with an optimal rate of 8- thousand steps per day (depending on the state of health and indications). At the same time, walking remains the most physiological, accessible and safe form of physical activity, it does not require additional equipment and specially organized space.
In addition, older people often suffer from loneliness and problems associated with desocialization. As the experience of holding competitions among pensioners shows, the creation of walking teams and participation in team competitions have a positive effect not only on the physical and psychological state, but also on the general social well-being of participants in family competitions.
To participate in the promotion, you must form a team from 3 to 20 people with family ties, friends and neighbors, connect to the «Man Walking» mobile application, which provides real-time counting of each participant's steps, and also generates team ratings. Any person of any age can be a team member.
The rating will be calculated as the sum of the arithmetic average of the number of steps of all team members for each day of the competition. Restriction for offset by steps per day: no more than 25 thousand.
The winner of the competition will be the team with the highest rating at the time 15 July : 80 (MSK). In case of equal final ratings, the team with the most participants wins.
Based on the results of the competition, all participants will receive bonuses for steps that can be converted into discounts on goods and services for healthy lifestyles from our partners.
Also, the winners will receive electronic Diplomas of winners, and all participants will receive Certificates of participation.
Registration of participants of the action takes place in the mobile application «Man Walking», which must be downloaded in stores Google Play, AppStore and AppGallery on request «Man walking».
Join the all-Russian project «Man walking» — man walking.rf
Also join the VK group — 86597https://vk.com/chelovekidushiy
Subscribe to 86597Telegram-channel