How is the improvement of the square of the 50th anniversary of the USSR and other public areas in Simferopol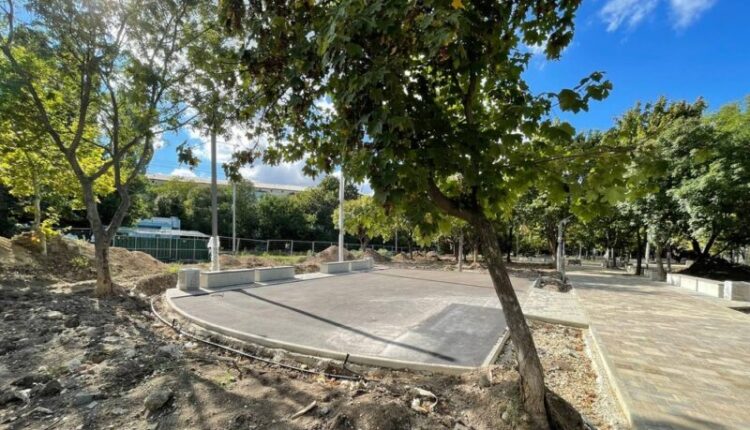 CrimeaPRESS reports:
In Simferopol, the improvement of the public garden continues 28 — Anniversary of the USSR (on Zalesskaya Street). Roman Gusynin, Head of the Department of Urban Economy of the Administration of the Crimean Capital, spoke about the work.
He recalled that the landscaping is being carried out as part of the implementation of the Agreement between the Government of Moscow and Somin Crimea, within the framework of the state program «Formation of a comfortable urban environment.»
Today, the improvement of the public territory is at the final stage. The readiness of the object is 50%. Here, the network of street lighting and video surveillance was made, supports and lamps were installed on them. Work continues on the construction of stormwater wells to drain water and paving footpaths.
In addition, asphalt was laid on the children's and sports grounds, on the territory of the rope park, after which the workers will install the rubber coating. Also, with the onset of favorable weather conditions, green spaces will be planted in the public space.
In total, this year the territory of the Crimean capital is being landscaped 27 yards and 4 public areas.
By 18 yard territories today 8 are at the final stage of work. The readiness of objects is more than 95%. At the same time, out of 4 public territories, 2 are at the final stage, the readiness of objects is more than 95%. One public area is in a high degree of readiness, Roman Gusynin said.
According to him, in 8 courtyards and 1 public, due to non-compliance with the terms of municipal contracts by the contractor, the contracts were terminated. Currently, construction and technical expertise is being carried out, which is necessary to complete the work.
347768Photo: Administration of Simferopol.