In support of the Army and the President. The Poetry Marathon "We Don't Leave Our Friends" Started in Crimea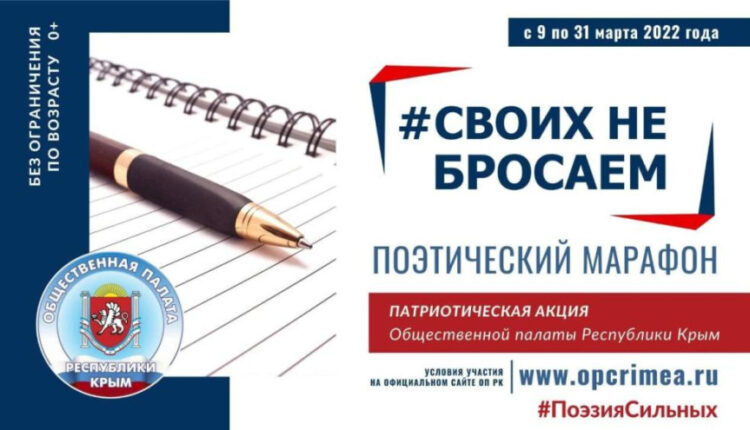 CrimeaPRESS informs:
Civic Chamber of Crimea announces the start of the Poetry Marathon.
The Poetry Marathon started in Crimea under the hashtags #We Don't Quit Our Own #Poetry of the Strong. The event in support of the Armed Forces of the Russian Federation and the course of the President of Russia is held by the Public Chamber of the Republic of Crimea. The marathon will last until 31 March, its results will be summed up on April 5.
Poetry is the voice of the people! The voice that expresses his thoughts and hopes, his feelings and soul, sings of heroic victories and mourns for losses. Now, when we are going through difficult days, when the future seems uncertain, you recall with special trepidation how the great poets sang the feats and courage of the soldiers of our state, — the organizers of the action report.
The Civic Chamber of Crimea drew historical parallels and recalled how powerful patriotic poetry sounded during the Patriotic War 1812 of the year, during the years of the Great Patriotic War.
It sounds powerful even now, when the fate of Russia is developing in such a way that it has to defend its future again! We know and believe that your talent and creative vocation will allow you to take part in the Poetry Marathon of the Civic Chamber of the Republic of Crimea #We Don't Quit Ourselves (#Poetry of the Strong), and show the whole world, through poetic lines, your patriotic mood and your unity with our army and the President , — the organizers of the Poetry Marathon emphasized. The purpose of the action is to create an atmosphere of unity and faith in the Russian army, as well as support for the course of Russian President Vladimir Putin. Any resident of Russia, organizations, schools, universities, enterprises, movements, creative teams can join the marathon.

Marathon conditions:

you must be subscribed to the telegram- Channel of the Public Chamber of the Republic of Crimea: 31https://t.me/opcrimea31, it is there that all news related to the marathon will be published.