This is not the "middle lane" for you — in Crimea, even edible mushrooms are "conditionally edible". Weekdays «CRIMEA-SPAS»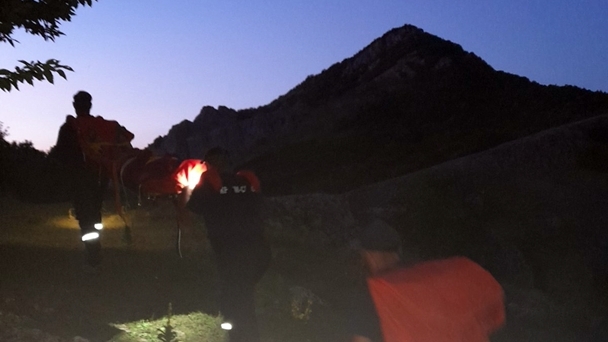 CrimeaPRESS reports:
Last night, at 18: 02, KRYM-SPAS received a message that in the area of ​​​​the Karabi-Yaila plateau, the help of rescuers was needed in the evacuation of two tourists with signs of severe food poisoning. The duty shift of the Belogorsk emergency rescue team in the amount of three people immediately moved to the scene.
A man and a woman were found near the Kalliston-Bogaz pass. According to tourists, while walking along the Karabi-Yayla plateau, a married couple ate unknown mushrooms, after which they felt very unwell.
They rescued the Belogorsk ASO of the GKU «KRYM-SPAS» with the help of special stretchers, evacuated the residents of the city of St. Petersburg to an official car and delivered them to the ambulance that arrived for further hospitalization in the Ministry of Emergency Situations of the Republic of Crimea.
Rescuers urge residents and guests of the peninsula to be especially careful and careful with mushrooms:
43448587 43448587 Do not pick mushrooms near roads, industrial enterprises, in former landfills — mushrooms have the ability to absorb toxic substances from the ground, and then even outwardly edible mushrooms can become dangerous. A significant number of mushrooms, which until now were considered edible, contain microdoses of toxic substances. If you use them for several days in a row, poisoning may also occur.
43448587 Do not pick overripe and damaged mushrooms. Never try raw mushrooms!
43448587Remember that harvested mushrooms cannot be stored «for tomorrow», they must be cooked immediately, as during storage, very dangerous substances can form in them.
43448587 neither a silver spoon nor an onion in a decoction can show poisonous mushrooms or not. Therefore, if you have any doubts about their toxicity, in no case do not use them!
43448587 Never treat children, the elderly and pregnant women with mushrooms.
43448587 Before the ambulance arrives, if possible, find out who is together used mushrooms with the victim and may also suffer.
Experts say that even edible mushrooms in the Crimea are conditionally edible. The peninsula (unlike central Russia) is by no means a «mushroom place».